If you ever have a chance to visit Ho Chi Minh City (or called Saigon by the locals), Cu Chi Tunnels is undoubtedly a must go tourist attraction in Southern Vietnam. Located 60km away from Saigon, Cu Chi Tunnels together with The War Remnant Museum and The Reunification Palace are great history combinations, affording tourists a hands-on way to experience the severe battle that took place in Vietnam over 40 years ago.
I booked a small group tour of Ginkgo Voyage after having scrolled through several pages of review on TripAdvisor. At 8:30 am, a van picked me up at my hotel lobby. I joined in the trip with 7 other tourists who are from Spain, France, USA and Britain. We were very excited about the trip!\
Our tour guide – Phoenix first presented history, politics and custom of Southern Vietnam in general and Cu Chi Tunnels in particular. It took us 2 hours to arrive at Cu Chi (with a 15-minute break on the way).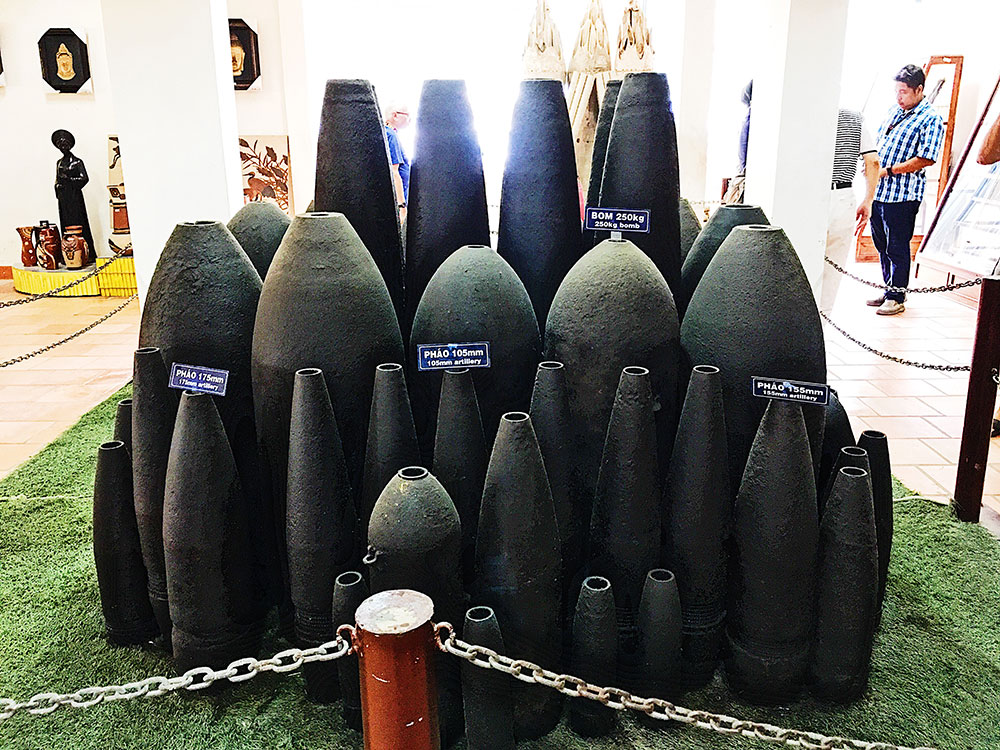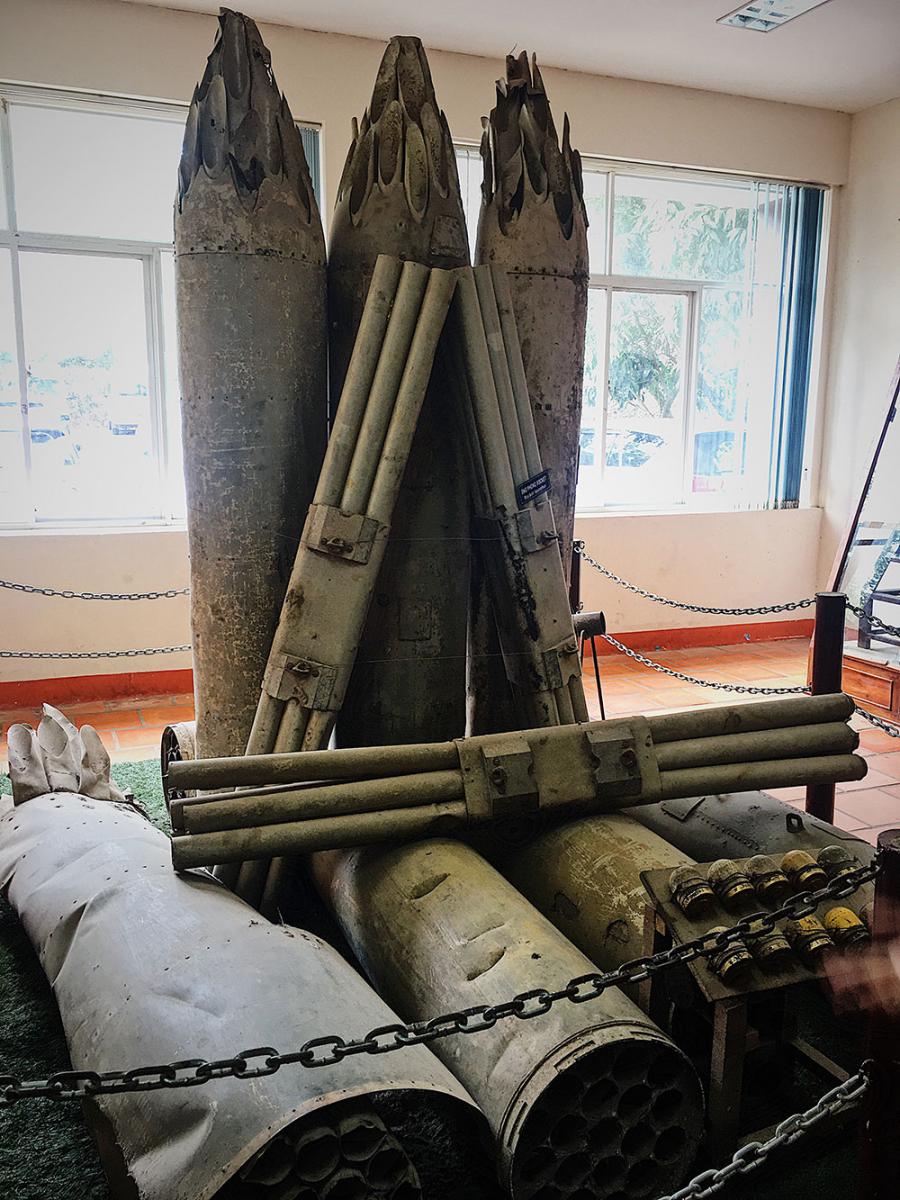 Rocket launcher in the museum in front of Cu Chi Tunnels
To start the adventure, we first watched a 20-minute video in black and white about the Vietnam War then our tour guide set out more about the tunnels outside. The Viet Minh initiated the construction in 1948 during the war against the French and it took over 25 years to carry through the network. It was an extensive labyrinth of underground tunnels, which was an important means of communication for thousands of Viet Cong guerrillas and also helped them get out of the French sights during the devastating wartime.
The tunnels were then expanded over an area of approximately 250km and divided into 4 levels of varying depths when the American invaded Vietnam.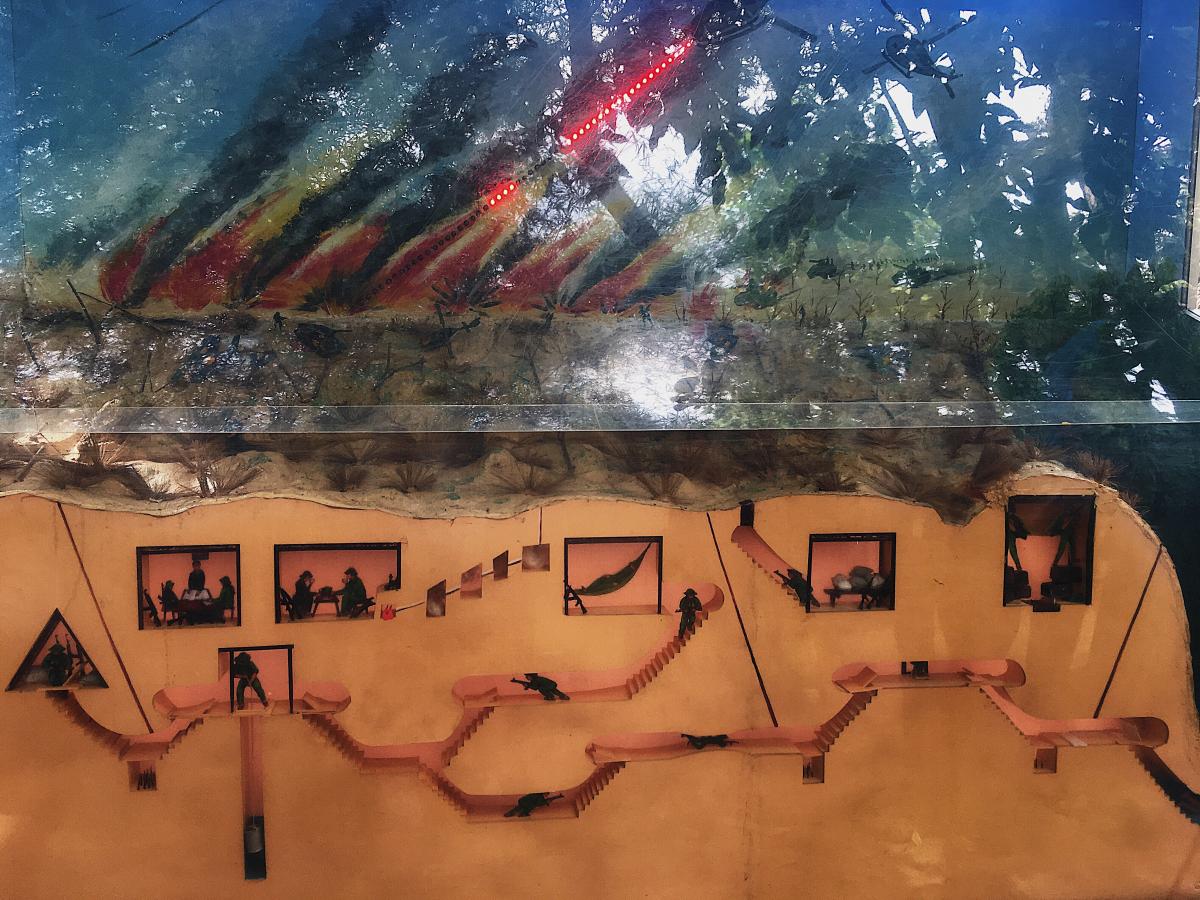 All necessary facets such as hospital, kitchen, bathroom, dorm, etc. could be found within the tunnel network. Accordingly, the tunnel network played an important role for the Vietnamese soldiers in getting through the American insurgents.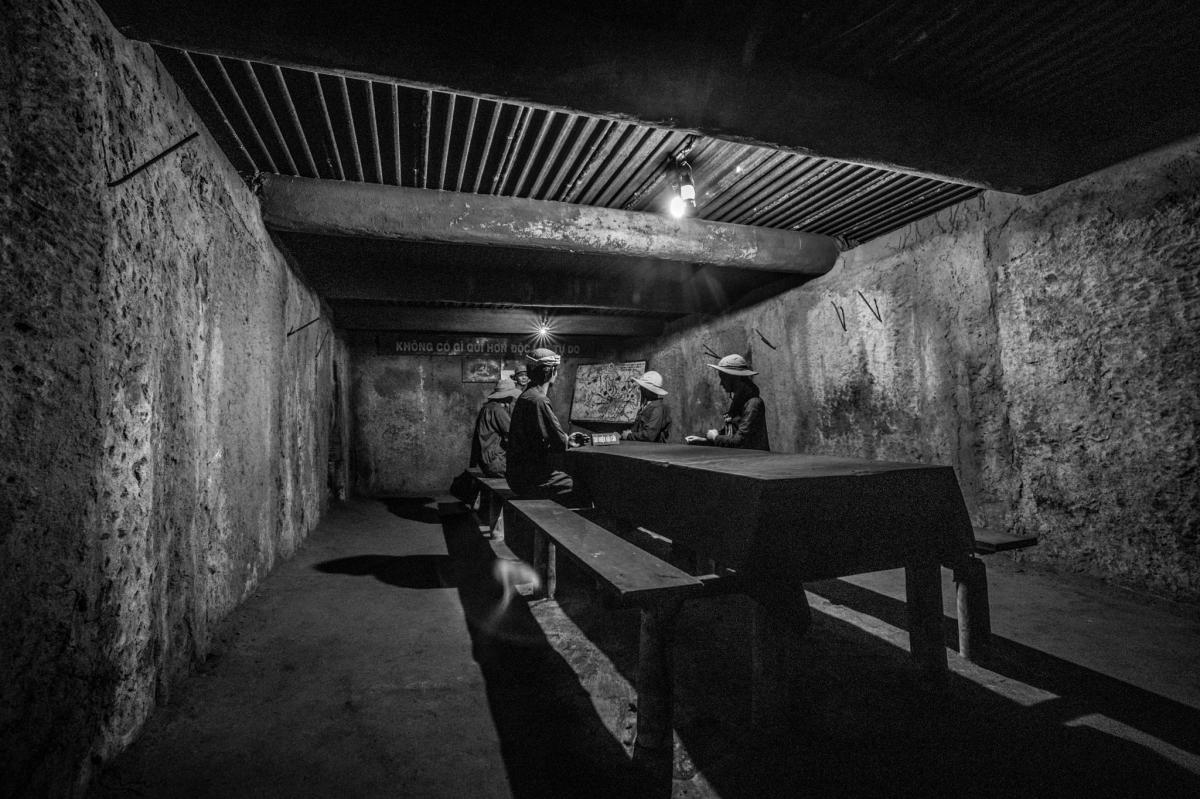 A replica of meeting room in the tunnels
Next, we were shown a trap door in the ground that was used by the Vietnamese to hide from the enemy during the war. Each person in my group then respectively jumped into the hole, crouched inside and took a photo. It was an amazing experience although the hole size was extended for traveller. It was just 2/3 in sizes in the past.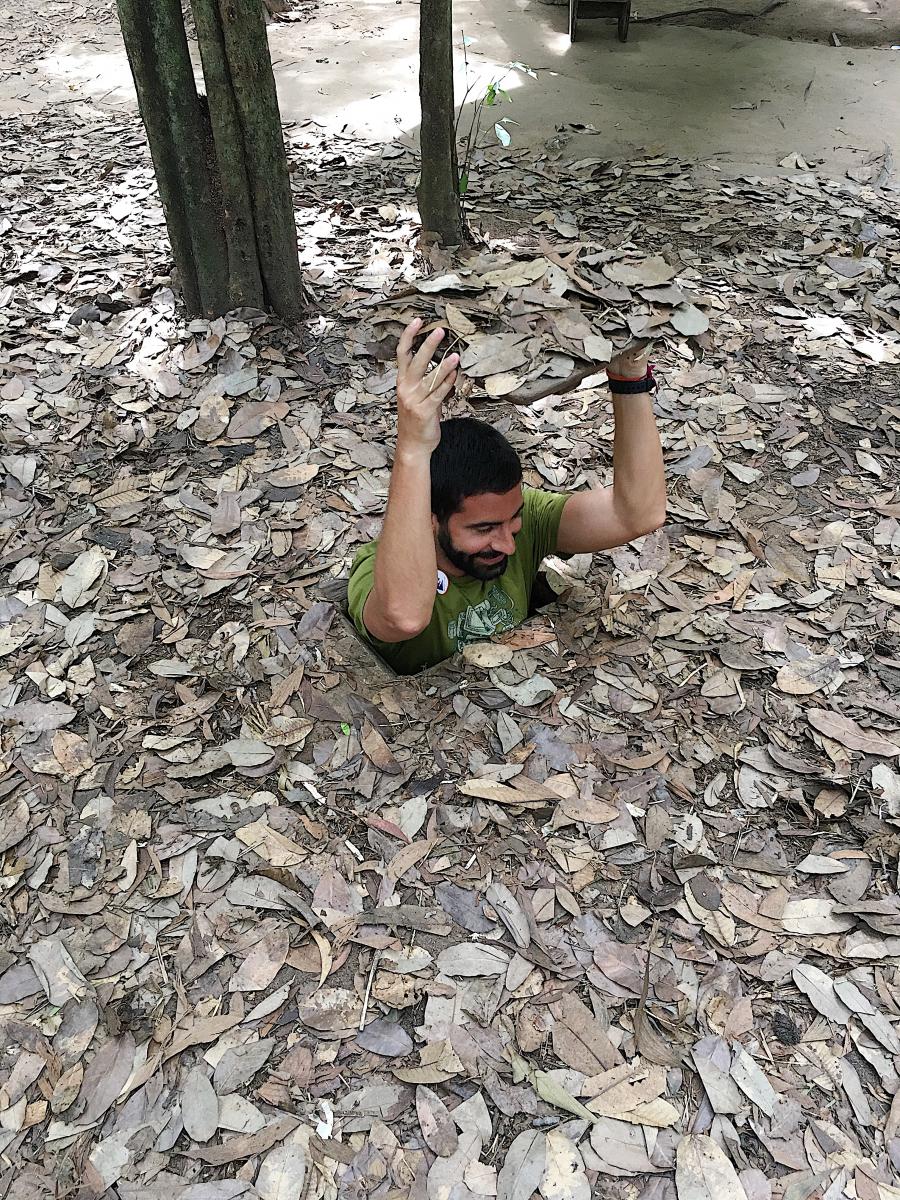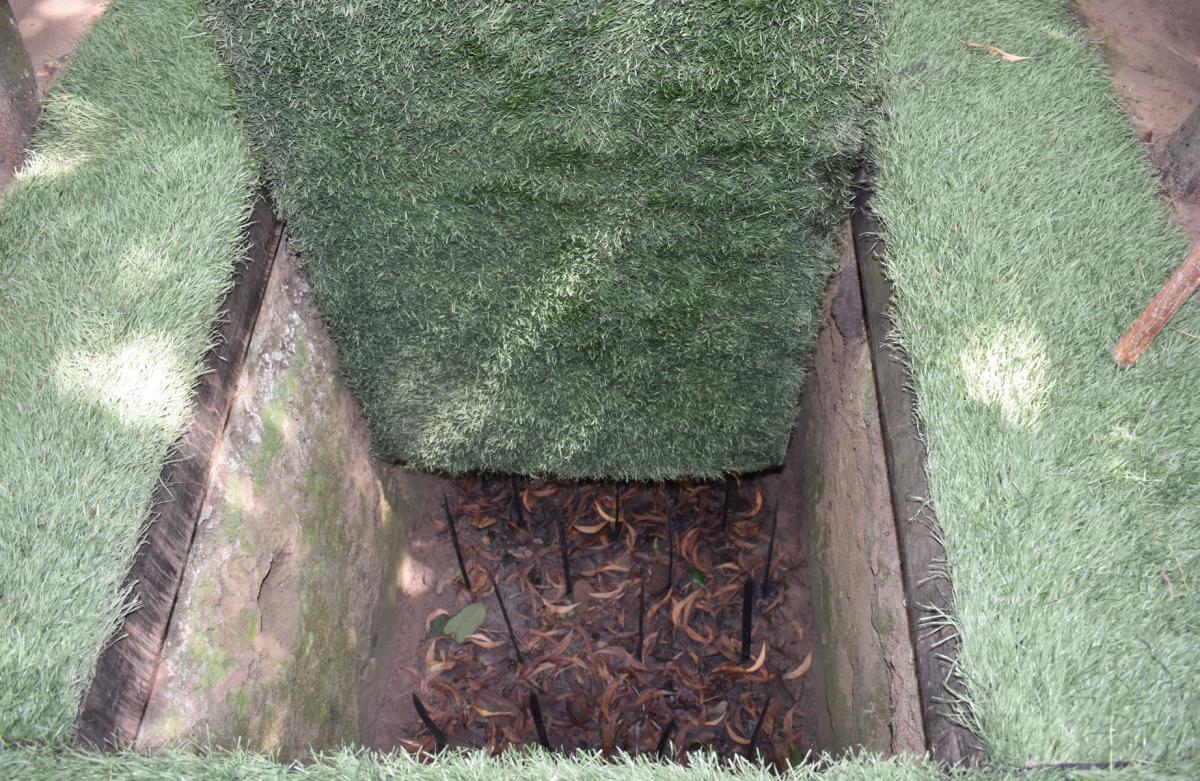 A duplicate of one of the booby traps used during the war.
Further into the woods, we stopped at some old shelters where there are several statues reacting scenes from the war and an old American tanker, which are all lively and worth for pictures.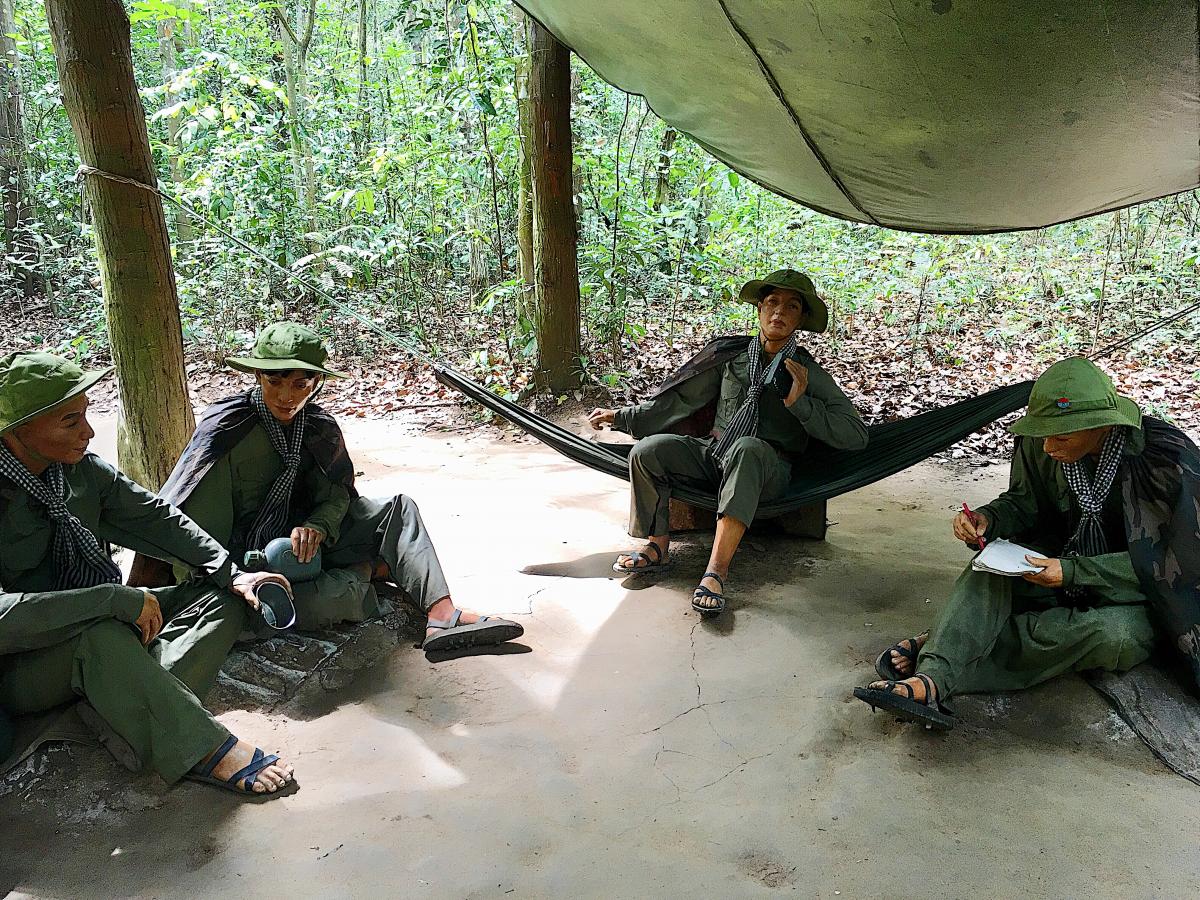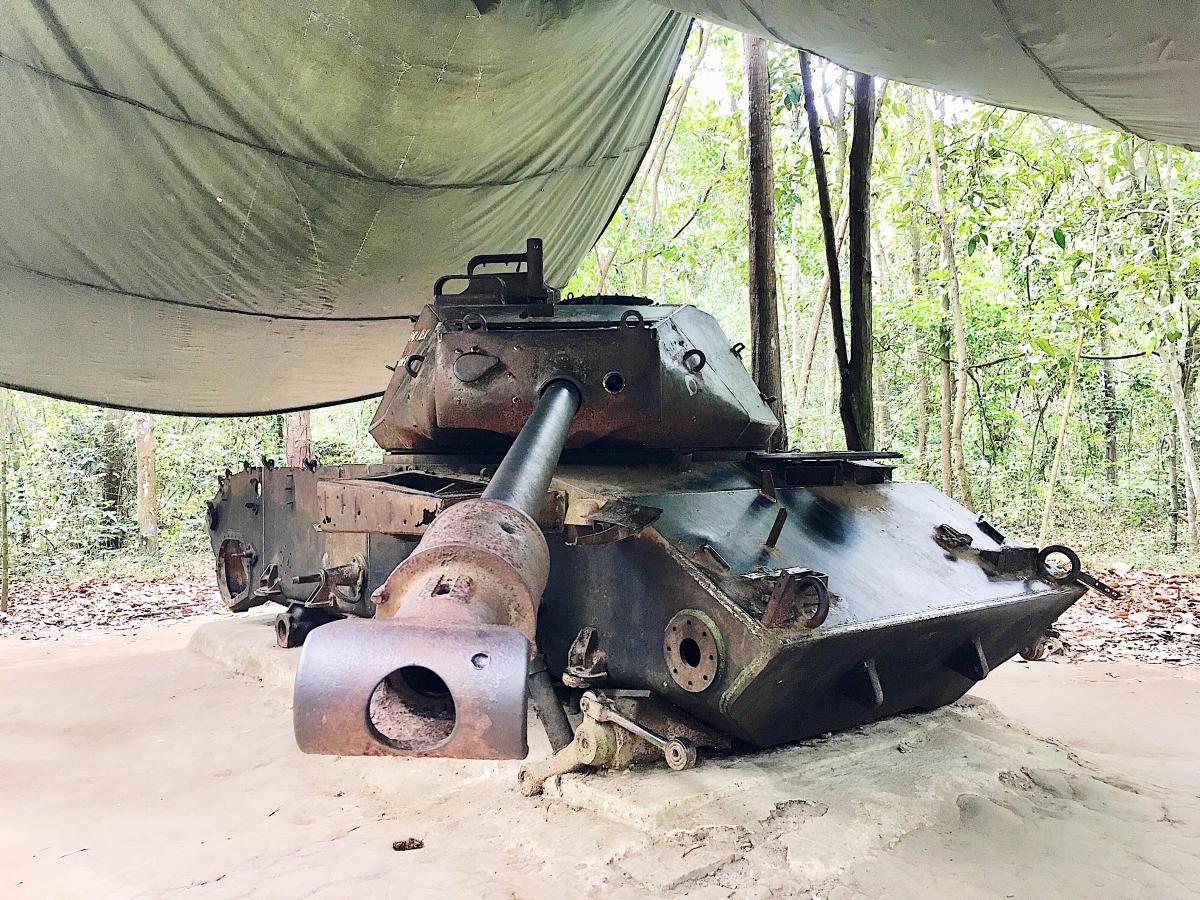 This spot was exactly where the Vietnamese soldiers destroyed this tank. 
Then we headed to a shooting range where you have to be in good health condition and more than 16 years old to be able to practice a few shooting rounds. There are even AK47 and M30 there. Those guns are pretty hard to shoot legally in anywhere else in the world nowadays so grab a gun if you're interested in shooting!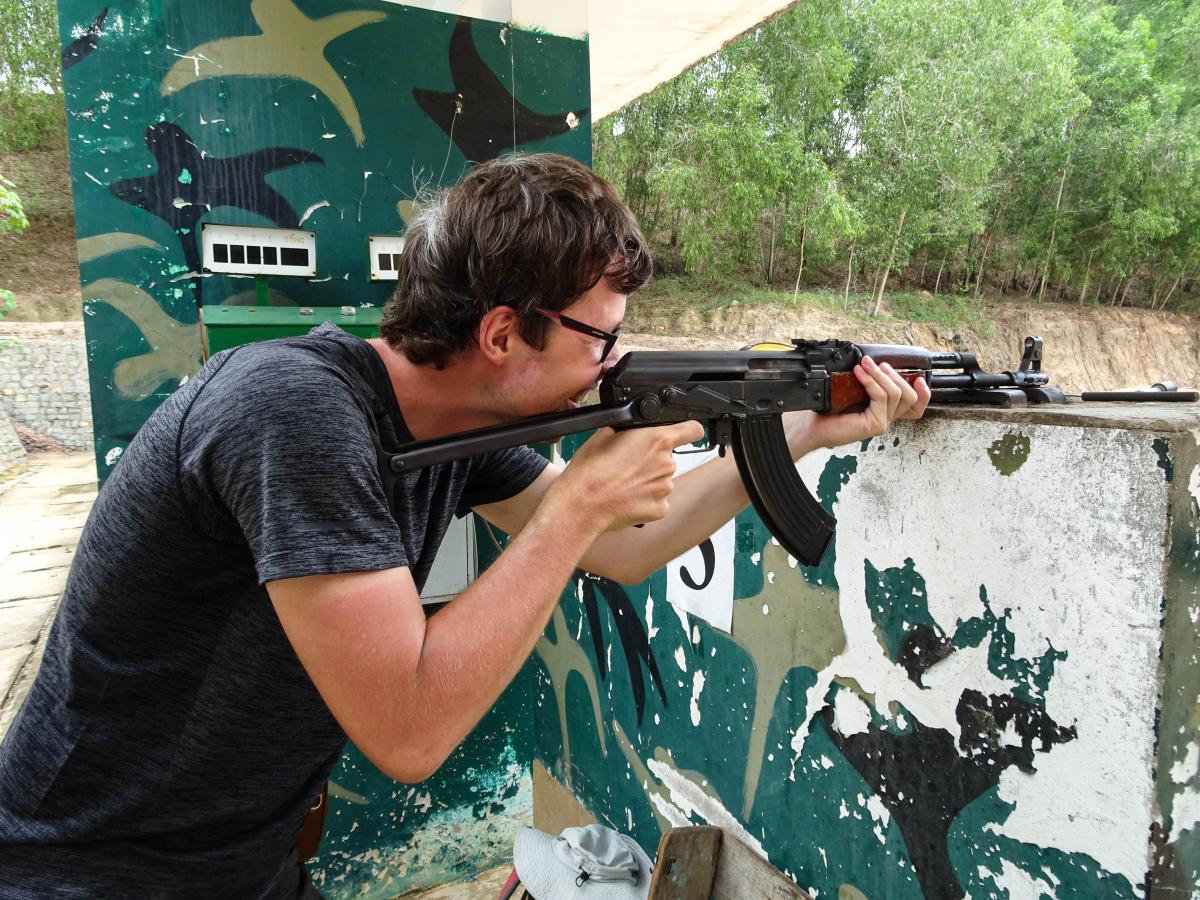 Finally came to the most waiting activity: CREEPING THROUGH THE TUNNEL!! There are 20m, 40m, 60m, 80m, 100m stops in case you couldn't bear with the darkness and lack of oxygen inside. Normally people choose the shortest distance just to experience in crawling through the narrow, dark and humid tunnels and still survive!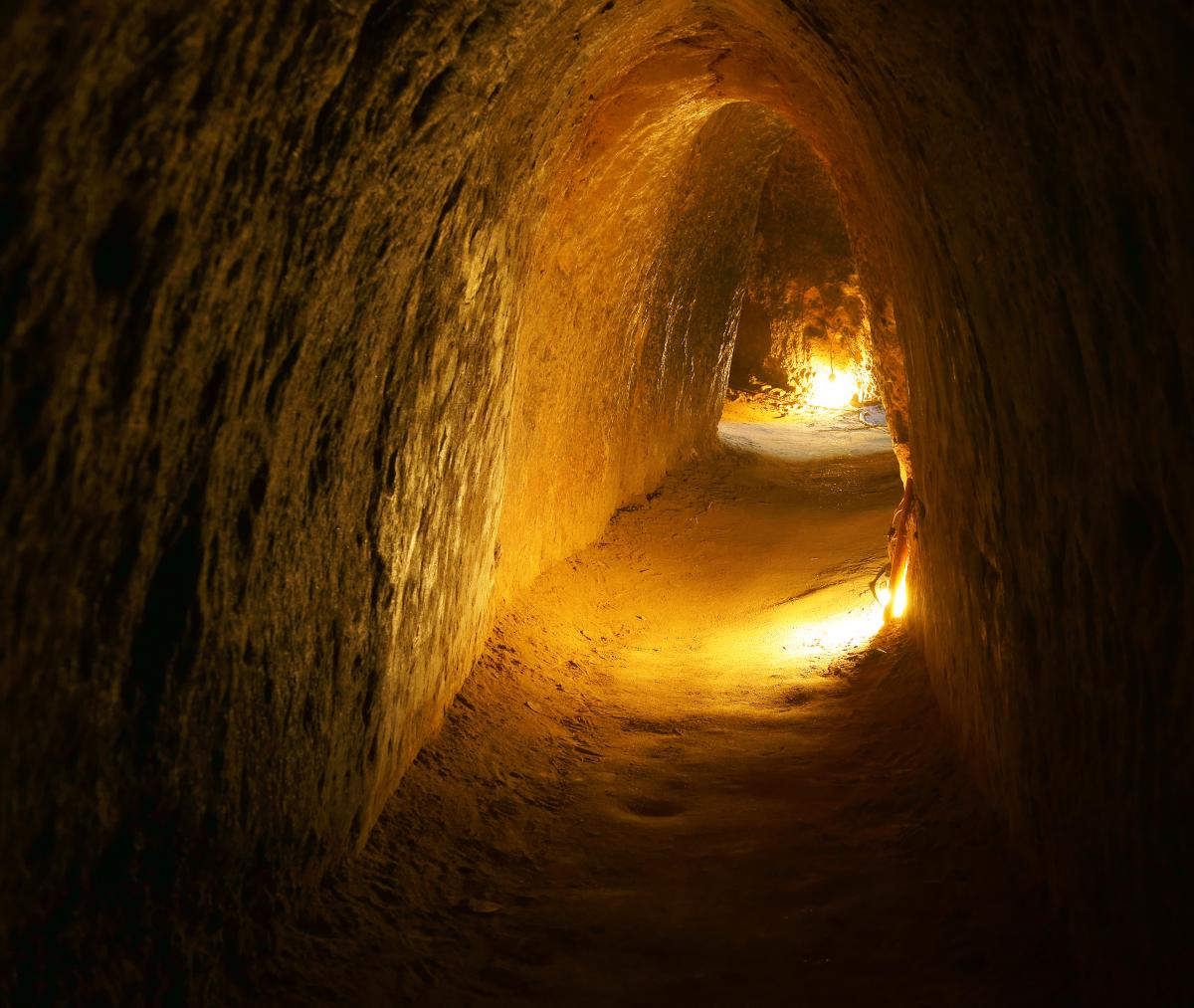 It was so far the most rewarding part of the trip and was beyond incredible for all of us.
Here are few thoughts of mine after finished the 20-meter way:
The work of constructing such a complex tunnel network was absolutely extraordinary!
Vietnamese troops lived there so they slept, ate, studied, etc. in such hard conditions. HOW AMAZING!!
Everyone was sweating and tired after the tunnels. We absolutely respect the Viet Cong soldiers for constructing and living in the tunnels for a period of time.
We then came across to a rice paper workshop where a woman showed us how to make traditional rice paper in Vietnam.I found those rice papers are used often in Southern Vietnam cuisine and was excited to see how they are made in reality.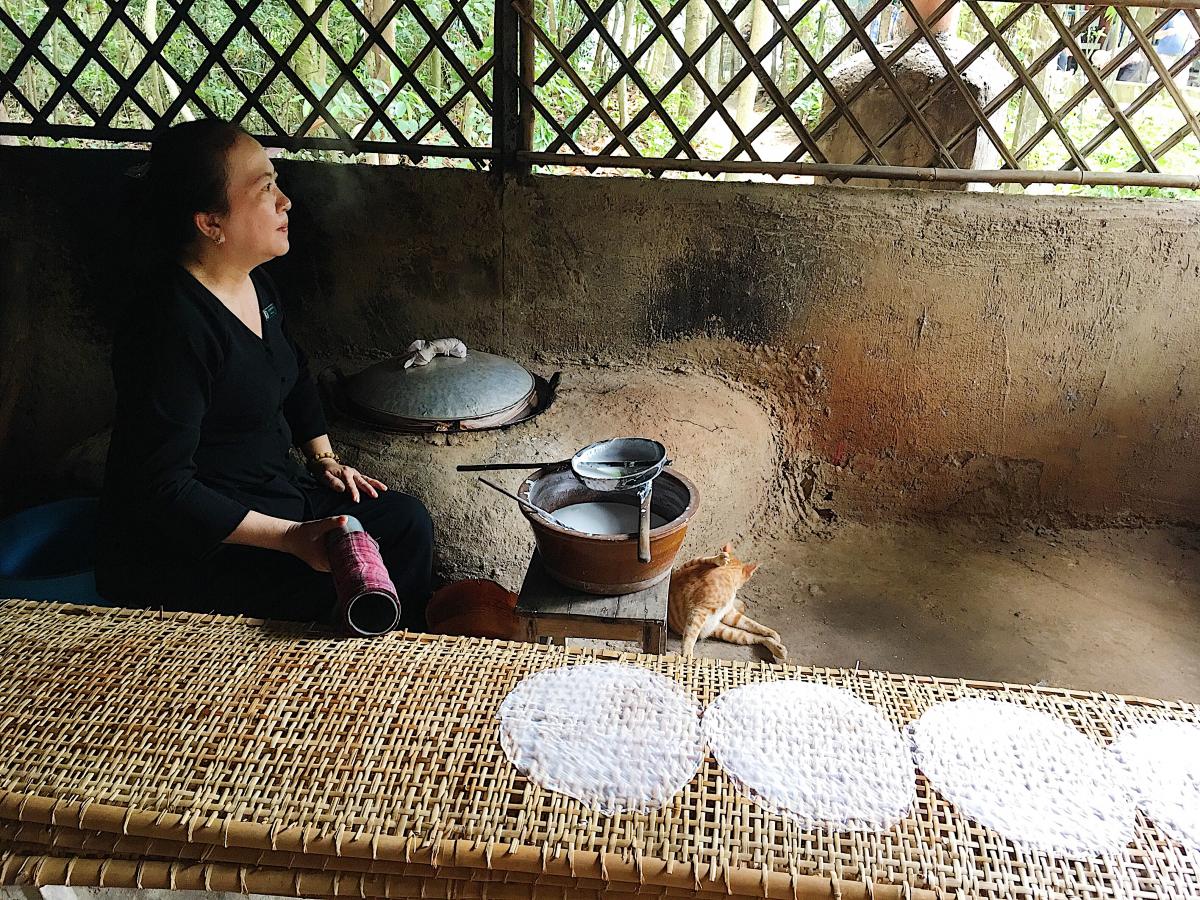 Our adventure in Cu Chi Tunnels was almost over that we stopped by a tearoom and tasted steamed tapioca served with crushed peanut and sugar, just a simple dish but very tasty and full of energy. The plain root was what the Vietnamese soldiers ate every day since it was easy to grow in such difficult environment during the wartime.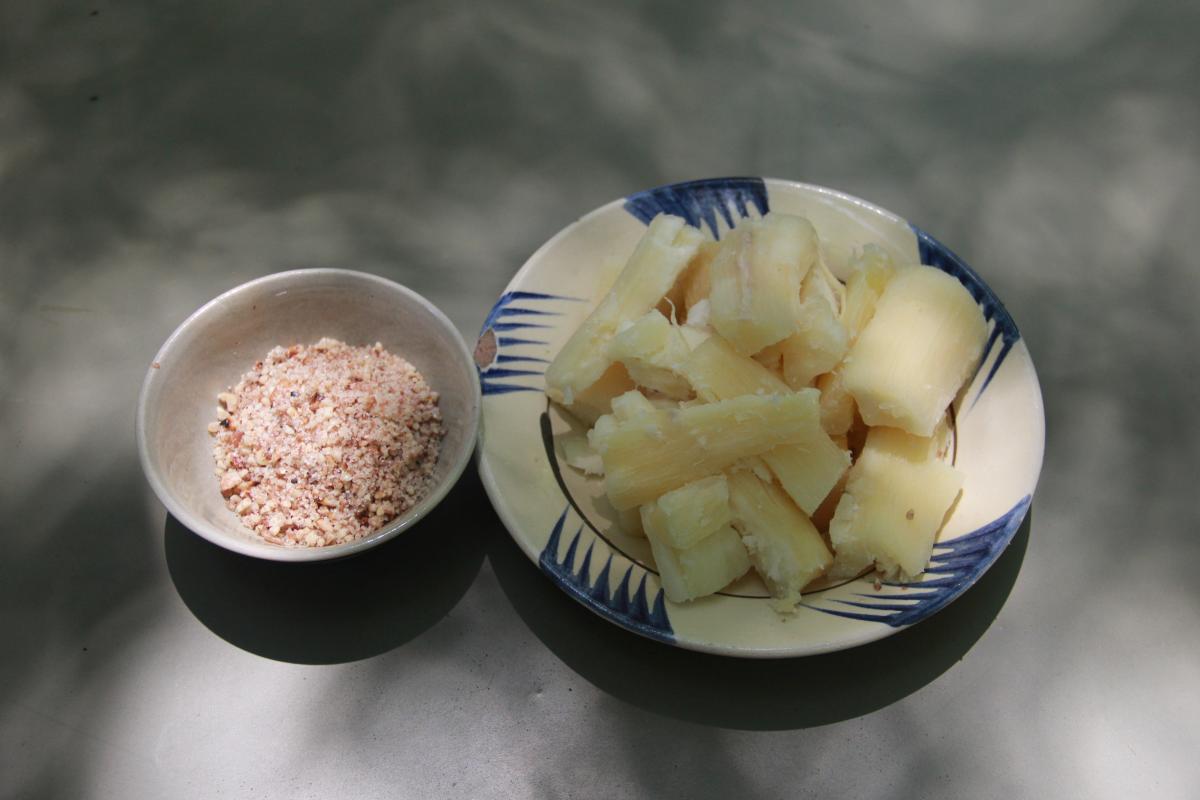 A half-day tour in Cu Chi Tunnels finally came to an end. We moved to the van to transfer to Saigon. The trip was interesting and informative regarding history of Vietnam during the wartime, the tunnel network and experiences but if you're not fond of those things, grab a tour to Mekong Delta. The place is another beauty of Southern Vietnam that must be explored when you're in the area!